Gabe Fajuri brings Eric DeCamps to Chicago to present his one man show, "Pure Magic" for a limited engagement. Eric will perform at the Potter & Potter Auction Gallery, 3759 N. Ravenswood, Suite 121, Chicago, IL 60613. During the weekend of October 19-21, Eric will give four performances in the intimate gallery setting. Seating is limited with around 75 seats available per show.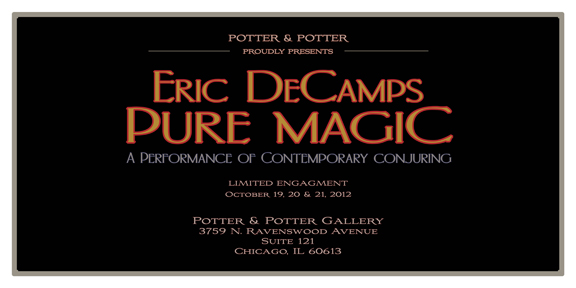 DeCamps' skills are unparalleled and his up-close, charming, and witty style of conjuring makes audiences an integral part of the presentation. In addition to an enviable resume entertaining Fortune 500 companies and Manhattan's elite, he has been honored by The Society of American Magicians as its Magician of the Year, and is only the second person in the Society's 110-year history to be awarded its Gold Medal of Honor for Close Up Magic.
Before and after the performances, guests can browse the artifacts on display from the Charlie Reynolds collection that will be up for auction on October 27, 2012.
Eric has presented this show in some form or fashion on other occasions including performances from Rockefeller Center to cruise ships, magic conventions and at Hollywood's prestigious Magic Castle. Below is a souvenir I received from one of his very early shows, "An Afternoon of Intimate Magic, Eric DeCamps in Concert".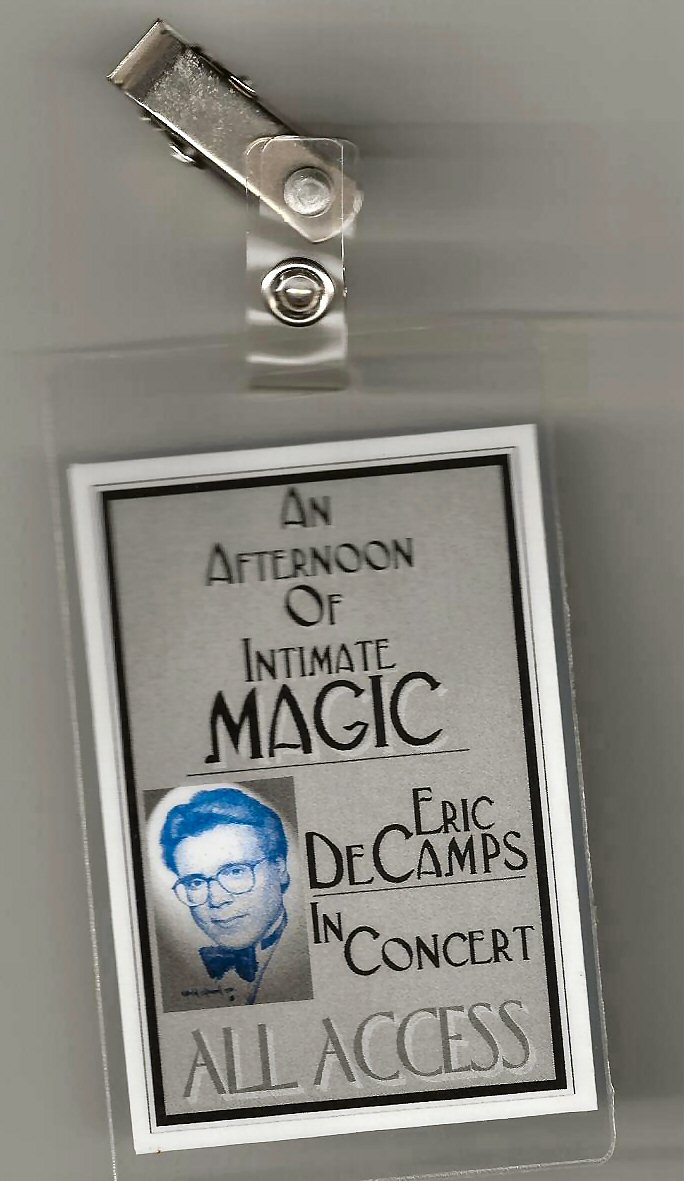 A special app has been created for the iPhone for this event. By downloading this app, you can have access to all the information about "Pure Magic" including the phone number for purchasing tickets, a map with directions to the Gallery, and more.
Click Here
to download the free app.
You can also hear Eric talk about the evolution of this show in a podcast that is elsewhere here on The Magic Word website. If you have any interest at all in knowing what it took to develop his one man show or if you are thinking about doing one yourself, then you should not miss this podcast.
For more information, tickets and directions, visit: http://potterauctions.com/events